V Type Carbide Drawing Die for Metal Wire

Introduction
V type carbide wire drawing die for ferrous metal can stretch large-diameter ferrous metal wires into thinner and longer ones. It is widely applied in metalworking process and used to manufacture electrical wires, cables, stringed musical instruments, wheel spokes, etc. Our cemented carbide dies can draw metal wires whose cross sections are in various appearances, such as round, square, hexagon, octagon, etc. Beside, we can manufacture custom drawing dies according to parameters or design drawings provided by clients.
Features
1. V type carbide wire drawing die for ferrous metal is featured by high precision, long working life and high cost performance ratio.
2. Diameter of drawn wires ranges from 0.5 mm to 20 mm.
3. Fine design in several important areas, including entrance area, lubrication area, working area, etc., reduces electric energy loss and increases working efficiency.
Notes and Delivery
1. Inform us of what metal materials are to stretch, or tell us what model you want, so that we can choose right cemented carbide dies for you.
2. Custom V type carbide wire drawing die for ferrous metal can be produced in 15 days if you offer physical prototypes. If there is no physical prototype, 25 days are needed.
3. Cargos are in fiber board cases if they are delivered by sea, or in cartons if delivered by air.
4. Payment is through T/T or L/C.
Parameters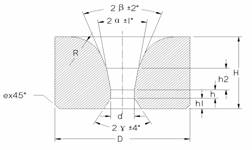 Annually, Zhuzhou Lizhou Cemented Carbide is capable of manufacturing 3 million tungsten carbide dies (including V type carbide wire drawing die for ferrous metal) and 500 T cemented carbide workblanks. Last year, our sales volume in domestic market was 15 million RMB, and in overseas market was 20 million RMB. By virtue of technology innovation and 42 patents for invention, Zhuzhou Lizhou Cemented Carbide was awarded with "New High-Tech Enterprise" of 2009 in Hunan province...
Related Products
Tungsten carbide peeling dies have different specifications, such as round, square, hexagonal, deltoid and other custom shapes. They are broadly ...
Lizhou Cemented Carbide Co., Ltd. is a professional manufacturer and supplier of tungsten carbide drawing dies. Our custom drawing dies ...