S12 Carbide Drawing for Non-Ferrous Metal Wire

Introduction
S12 widia drawing dies for non-ferrous metal wires are commonly used in metalwork process. They can reduce cross sections of non-ferrous metal wires. Cross sections of metal wires can be in various appearances, such as round, square, hexagon, octagon, etc. Drawn wires are tungsten wires, molybdenum wires, alloy wires, springs, strings in musical instruments, electrical wires, cables, etc. Widia wire drawing dies are widely applied in steel industry and metal industry.
Features
1. S12 widia drawing dies for non-ferrous metal wires are featured by high density, great rigidity, superior wear resistance, long working life and high cost performance ratio.
2. There are many types offered to customers for choices. Besides, custom wire drawing dies can be manufactured in compliance with particular design drawings.
3. Fine design for important structures, such as entrance area, working area, sizing area, etc., makes drawing dies demonstrate good performance.
Notes and Delivery
1. Let us know your desirable widia drawing dies for non-ferrous metal wires, or tell us what metal materials are to stretch. Then, we can choose right types for you.
2. As to custom widia wire drawing dies, we can manufacture specific products in 15 days if you offer physical prototypes. But if there is no physical prototype for reference, 25 days are needed.
3. Cargos are delivered by sea or by air, and respectively packaged with fiber board cases or cartons.
4. Payment way is T/T or L/C.
Parameters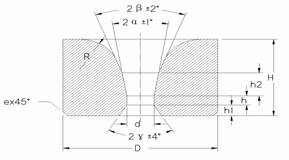 Zhuzhou Lizhou Cemented Carbide Co., Ltd. is equipped with many advanced production facilities, such as reduction furnace controlled by computer, automatic carbide furnace, TPA compression molding machine, sintering furnace, etc. Products manufactured by us, including S12 widia drawing dies for non-ferrous metal wires, are checked through strict quality inspections. They have passed ISO9001:2000. In 2008, our annual productivity of cemented carbide materials reached up to 300 T, and, sale amount of drawing dies was over 100 T.
Related Products
Tungsten carbide wire drawing dies have a certain shaped hole in the center, including round, square, octagonal or other special ...
As a professional tungsten carbide drawing dies manufacturer and supplier, we offer a wide ...