S01 Carbide Drawing Die for Ferrous Metal Wire

Introduction
S01 carbide drawing dies for ferrous metal wires are commonly used in stretching ferrous metals into specific wires. With ferrous wire drawing dies, large-diameter wires are pulled into special apertures and compressed into small-diameter wires. For S01 type, available metal materials are ferrous metal wires. Diameter of stretched wires is 0.2 to 0.5 mm.
Features
1. It is of good wear resistance, which assures long continuous work and ferrous metal wires accuracy.
2. With excellent polishing, S01 carbide drawing dies for ferrous metal wires endow metal wire surface with high quality and glossiness.
3. During stretching, there is low adhesion between die aperture and metal wires. So, drawing die is durable, and metal wires are of smooth surface.
4. Ferrous wire drawing dies are featured by superior strength, toughness, good wear resistance, low cost and durability.
Parameters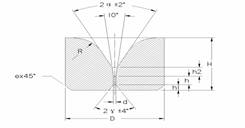 New Type
Old Type
Dimension (mm)
Reference Dimension (mm)
D
H
d
2α
2γ
h
h1
h2
R
S01-0060440-0.8
S01-0.8
6
4
0.2
40°
60°
0.8
0.6
0.8
1.5
S01-0080640-1.0
S01-1.0
8
6
0.2
40°
60°
1.0
0.6
1.0
2.5
S01 carbide drawing dies for ferrous metal wires are widely used in steel industry. We supply various drawing dies to meet different requirements of customers. Apart from domestic market, our products are widely sold in foreign countries, including America, Japan, Korea, Germany, Spain, and so on. Last year, our overseas sales volume was 20 million RMB.
Related Products
Bar drawing dies in manufacturing industry are usually made of carbides or tool steel. Rod or bar drawing is a term used to express one ...
Tungsten carbide tube drawing dies are designed with round, square, hexagon and other special shapes. They are used for drawing various ...