S01 Carbide Drawing Die for Non-Ferrous Metal Wire

Introduction
Type S01 tungsten carbide wire drawing dies for non-ferrous metal are commonly used in manufacturing electrical wires, cables, strings in musical instruments, spokes for wheels, springs, etc. Wire dies can stretch non-ferrous metal wires into longer and thinner ones at room temperature. But when dealing with large wires, they are working at high temperature. As famous carbide drawing dies provider, Zhuzhou Lizhou can manufacture various products which are complex in structures or in shapes.
Features
1. Custom tungsten carbide wire drawing dies for non-ferrous metal are provided according to given design drawings.
2. They feature superior strength, strong toughness, good wear resistance, long working life and high cost performance ratio.
3. Fine design in several important structures, such as entrance area, lubrication area, working area, sizing area, etc., makes wire drawing dies present great performance.
Notes and Delivery
1. To provide you with suitable tungsten carbide wire drawing dies for non-ferrous metals, please tell us what metal wires are to stretch, or specific model number you want.
2. With given physical prototypes, we can manufacture custom carbide drawing dies in 15 days. Without physical prototypes, 25 days are needed.
3. Cargos are packaged in fiber board cases if delivered by ship, and in cartons if by airplane.
4. Payment is through T/T or L/C.
Parameters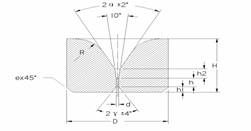 New Type
Old Type
Dimension (mm)
Reference Dimension (mm)
D
H
d
2α
2γ
h
h1
h2
R
S01-0060440-0.8
S01-0.8
6
4
0.2
40°
60°
0.8
0.6
0.8
1.5
S01-0080640-1.0
S01-1.0
8
6
0.2
40°
60°
1.0
0.6
1.0
2.5
As a specialist carbide drawing dies provider, Zhuzhou Lizhou Cemented Carbide Co., Ltd. can manufacture 3 million tungsten carbide dies and 500 T cemented carbide workblanks every year. Last year, our sales volume in domestic market was 15 million RMB, and in overseas market was 20 million RMB. By virtue of technology innovation and 42 patents for invention, Zhuzhou Lizhou Cemented was awarded with "New High-Tech Enterprise" of 2009 in Hunan province.
Related Products
Tungsten carbide wire drawing dies have a certain shaped hole in the center, including round, square, octagonal or other special ...
As a professional tungsten carbide drawing dies manufacturer and supplier, we offer a wide ...