S23 Carbide Die Nibs for Tubes

Description
In metalworking process, S23 tungsten carbide nibs for metal tubes are commonly used to reduce size of metal tubes. They are made from microcrystal carbides and specific metal powder binders. After low-pressure sintering, they show advantageous features of tungsten. Besides, other advantageous performances increase by 1/4. With cobalt powder as binder, metal tube cemented carbide nibs possess strong toughness. Drawn tubes are mainly used in electric devices, television sets, radars, and so on. Zhuzhou Lizhou can manufacture a wide range of drawing die products which meet various applications.
Features
1. We can manufacture custom S23 tungsten carbide nibs for metal tubes according to design drawings provided by clients.
2. They are easy to fit into drawbenches. Besides, they feature long working life.
3. With great corrosion resistance, they show obvious advantage when performing wet drawing in lubricants.
4. Small adhesive arises between die surface and tube surface, and excellent polishing is conducted when manufacturing metal tube cemented carbide nibs. Both features above make tube surface in high quality and glossy.
5. When S23 tungsten carbide nibs for metal tubes are working, small friction exists. It economizes electric power and increases working efficiency.
6. High thermal conductivity assures that heat releases fast during tube drawing.
Notes and Delivery
1. Before choosing suitable products, please tell us your desirable drawing die types or what metal materials are to stretch.
2. 15 days are needed to manufacture custom S23 tungsten carbide nibs for metal tubes if physical prototypes are provided. If there is no prototype for reference, 25 days are needed.
3. Metal tube cemented carbide nibs are packaged with fiber board cases if they are delivered by sea. But if they are transported by air, they are placed in cartons.
4. Payment is through T/T or L/C.
Parameters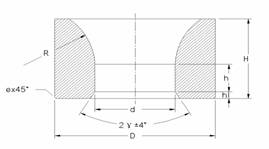 As one of the largest cemented carbide die manufacturers in China, Zhuzhou Lizhou provides a wide range of tungsten carbide drawing dies to customers both at home and abroad. Our products, including S23 tungsten carbide nibs for metal tubes, are exported to many countries, such as America, India, Spain, Germany, Korea, Japan, and so on. They are highly spoken of by customers, especially in Indian market.
Related Products
Tungsten carbide wire drawing dies have a certain shaped hole in the center, including round, square, octagonal or other special ...
As a professional tungsten carbide drawing dies manufacturer and supplier, we offer a wide ...