S22 Carbide Drawing Die Nibs for Tubes

Introduction
S22 carbide drawing die nibs for metal tubes are commonly utilized in metalworking process. They can reduce tube size by drawing tubes through specific die holes. Drawn tubes are in various metal materials, such as mild steel, high carbon steel, stainless steel, brass, aluminum, and so on. Metal tube carbide drawing dies are widely used to manufacture tubes which are applied in television sets, radars, electric devices, automobiles, etc.
Manufacturing Process
Selecting Materials → Rough Lathing → Heat Treatment → Pressing Tungsten Steel → Linear Cutting → Punching Holes → Finishing Turning → Polishing
Notes and Delivery
1. Before choosing S22 carbide drawing die nibs for metal tubes, please tell us your desirable type or what metal materials are to stretch.
2. 15 days are needed to manufacture custom drawing dies if physical prototypes are provided. Otherwise, 25 days are needed.
3. Metal tube carbide drawing dies are packaged with fiber board cases if they are delivered by ship, and packaged with cartons if delivered by air.
4. Payment is through T/T or L/C.
Features
1. S22 carbide drawing die nibs for metal tubes are featured by wide application range, long working life, high reliability, high accuracy and excellent performance.
2. We can manufacture custom products according to specific parameters or design drawings provided by clients.
3. Good wear resistance guarantees that continuously long-time work is stable.
4. With small adhesive and excellent polishing, drawing dies can produce metal tubes which are of high-quality and glossy surface.
5. Small friction coefficient can reduce energy consumption and increase working efficiency.
6. S22 carbide drawing die nibs for metal tubes can efficiently release heat when performing heat drawing.
7. With great corrosion resistance, metal tube carbide drawing dies show obvious advantage when performing wet drawing in lubricants.
Parameters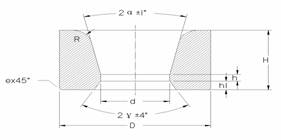 S22 carbide drawing die nibs for metal tubes are popularly used because of various superior features, such as great strength, strong toughness, compressive strength, bending strength, good polishing, high corrosion resistance, etc. Our drawing dies are manufactured with rare microcrystal carbides and cobalt powder binder. They show a series of advantages when performing cold drawing, heat drawing, wet drawing and dry drawing. Inspected by strict quality tests, our products have passed ISO9001:2000 and are exported to many countries.
Related Products
Carbide roll rings refer to installing a series of rotary roll surface through bearings on the arc core shaft, so as to achieve flattening effect...
Tungsten carbide rollers possess resistance to thermal cracks and corrosion due to adding nickel and chromium in the binder ...