S60 Carbide Drawing Die Nibs for Hexagon Bars

Introduction
S60 tungsten carbide drawing die for hexagon bars is designed to size metal bars by shrinking large diameters into smaller ones. With hexagon die holes, hexagon rod carbide drawing dies are mainly used for hexagon metal bars. There are several important structures in drawing dies: entrance area, lubrication area, working area, sizing area, exit area and exit cone angle. Tungsten carbide drawing dies are commonly utilized to manufacture high-accuracy metal wires, bars, tubes, etc. These metal products are mainly applied in electronic devices, radars, television sets, gauges, spaceflights, etc.
Features
1. Maximum external diameter of S60 tungsten carbide drawing die for hexagon bars is 120 mm.
2. Custom drawing dies can be manufactured according to specific specifications provided by clients.
3. Hexagon rod carbide drawing dies are featured by good wear resistance, excellent polishing, small adhesion, small friction coefficient, high thermal conductivity and good corrosion resistance.
4. They can keep continuous working for a long time.
5. Drawn metal bars possess glossy surface.
6. Because of small friction, they consume less electric power and work in higher efficiency.
Notes and Delivery
1. Tell us desirable tungsten carbide drawing die for hexagon bars, or metal materials are to stretch, then we can assist you in choosing suitable drawing dies.
2. 15 days are needed to manufacture custom products if physical prototypes are provided. But 25 days are needed if there is no physical prototype for reference.
3. Cargos are packaged with fiber board if they are delivered by ship, and with cartons if delivered by air.
4. Payment of hexagon rod carbide drawing dies is through T/T or L/C.
Parameters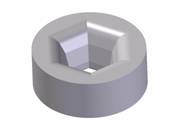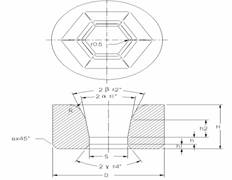 Founded in 1993, Zhuzhou Lizhou is a specialist manufacturer of cemented carbide drawing dies in China. Equipped with advanced production facilities, it can produce various drawing dies no matter they are complex in structure or irregular shapes. Our products, including S60 tungsten carbide drawing die for hexagon bars, are exported to many countries, such as America, Germany, Spain, Japan, Korea, India, etc. Last year, our sales volume in domestic market was 15 million RMB, and in overseas market was 20 million RMB.
Related Products
Tungsten carbide wire drawing dies have a certain shaped hole in the center, including round, square, octagonal or other ...
As a professional tungsten carbide drawing dies manufacturer and supplier, we offer a ...